A Super Win!
Jul 30, 2018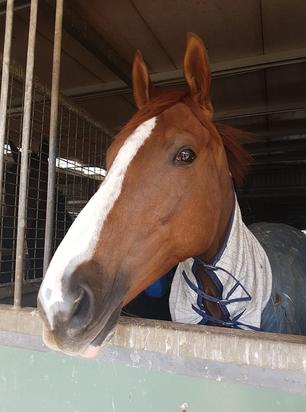 There is no horse in the stable with more owners than Supergrass so there was plenty of cheering as the talented but not always lucky chestnut drew clear to record an easy maiden victory at Bairnsdale on Sunday.
Sent out an odds-on favourite on the back of a fast finishing third in a slowly run race at Echuca at his previous start, the son of Star Witness jumped nicely for Perth jockey Aaron Mitchell - soon taking a sit mid-field.
Always travelling well, Supergrass started to wind up from the 600m as the leader began to get clear. He spotted that horse a few lengths turning but soon knuckled down to the task, chasing gamely in the run home - hitting the lead with 100m to go and putting 1 1/4 lengths on his rivals.
It was a win more impressive than the winning margin suggest, Supergrass still a little unsure with what to do with himself once he hit the lead but he went to the line with plenty in hand and his ears pricked.
"There was plenty of speed on and we were able to flow into the race from the 600m," Aaron Mitchel reported, adding that "he gave a good kick at the top of the straight and won with ease."
"He did have a little look around once he got to the lead but he still managed to win pretty comfortably."
Mick Kent was delighted to see Supergrass break through at his tenth start, amazed that it took him that long to win his maiden.
"He has always shown good ability but things have not always gone his way."
Such as the day he ran sideways into the hedge next to the Kyneton barriers! A beaten favourite that day, Supergrass was then found to be sore behind, an operation both hind legs ensuing.
The time off did Supergrass well, the four-year-old returning all the stronger... "he has been a happy, sound horse this time in," Kent said.
There are eight syndicates and eight individuals amongst the Supergrass ownership, making him one of the most popular horses in the stable!
Adey May, Robyn Beaty and Christian Jocumsen both took shares on the strength of photos and videos taken when fellow part owners Kristen Manning and Julie Nairn visited the then colt at Millford Thoroughbreds, Nagambie.
"He looked cheeky and bright and he was a lovely chestnut so I piled in!" May said whilst Beaty was also impressed - and keen to take part in a large ownership group - "it is fun, it is exciting and you make a lot of new friends who share a common interest."
"I have always been a huge fan of Starcraft and his son Star Witness," Jocumsen said, "and apart from his nice breeding there was something about this boy in the video and photos that really stood out. I love a cheeky, self confident horse... I couldn't help but buy a small share in him."
Supergrass is a rather handsome horse, something noted by Janet Dobson who admits to "being a sucker for chestnuts!"
It was an emotional victory for Dobson whose beloved father passed away last week. She could not be at the races as she celebrated his birthday with family; toasting him and the win with a bottle of Mumm given to her at Christmas - "saved for my next winner!"
It had always been an ambition for Genevieve Gill to race a horse - "a bucket list activity" whilst others came into the horse via friends; Cathryn Colley Stewart meeting Karin MacNab online and rehoming one of her homebred horses whilst Rose Mackey, Adrienne Bicknell and Kristen Manning have been chatting at the races for years.
Janine Courtney, daughter of legendary trainer Brian Courtney, met other owners on Facebook - including Fay Galluzzo who usually makes the trek to see her horses race wherever it may be but who unfortunately this time could not make it. "Just so angry I couldn't be there... but I am loving every minute and looking forward to the future."
Philip and Ann D'Rozario along with Tiger Keenan (part owner and strapper) were lucky enough to be on course - Philip beaming as he declared it "a superb victory."
Racing.com producer Nick Lovett (also lucky part owner of Group One mare Viddora) is another happy owner as is Geelong Advertiser sports journalist Damien Ratcliffe who had a very exciting weekend with his promising Soul Star placed at Caulfield on Saturday.
Chris Nutt contemplated making the trip all the way from South Australia but was still happy cheering from afar as were Karin MacNab and Gary Simpson (who provided Supergrass with his name) even further afield on a European holiday.
And that is mention of just a few of his many owners... congratulations to them all!
Bred by Toorak Park Stud in South Australia, Supergrass is the seventh winner and final foal produced by the stakes winning Kendor mare Twitter - also dam of the Gr.1 1000 Guineas winner Serious Speed, grandam of stakes winners Majestic Music, Reldas and Victory Chant and third dam of Listed winner Guard Of Honour.
A descendant of the acclaimed matriarch Chelandry, Supergrass hails from the same family as big race winners Imposera, Imprimatur and World News.